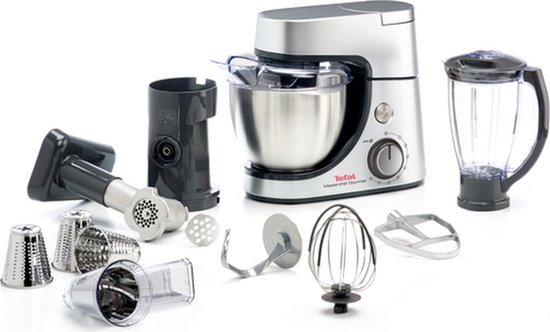 Tefal Masterchef Gourmet QB516D keukenmachine
starstarstarstarstar
0 reviews
View the deal of € 199.95 which is offered by bol.com
All deals (1)
Store

Deal

Price
Stock
Product description
Bak taarten zonder moeite met de Masterchef Gourmet
Een keukenmachine in huis hebben is niet langer meer een luxe of voor experts allen. Met Masterchef Gourmet maak je met het grootste gemak taart en allerlei gebak: koekjes, kruimeldeeg en bv. cupcakes.

Dankzij de gepatenteerde dubbele mengbeweging, de krachtige 1100 W motor en 3 roestvrijstalen gebaksaccessoires worden al je bereidingen perfect en egaal gemengd. De garde met Flex Whisk Technology, klopt eiwitten perfect stijf op vanaf 1 eiwit. De mengkom heeft een capaciteit van 4 L en is groot genoeg om 1,5 kg beslag of meer dan 30 cupcakes te maken. Er worden tevens diverse accessoires meegeleverd (blender, gehaktmolen, snij- rasp accessoire) voor nog meer mogelijkheden.